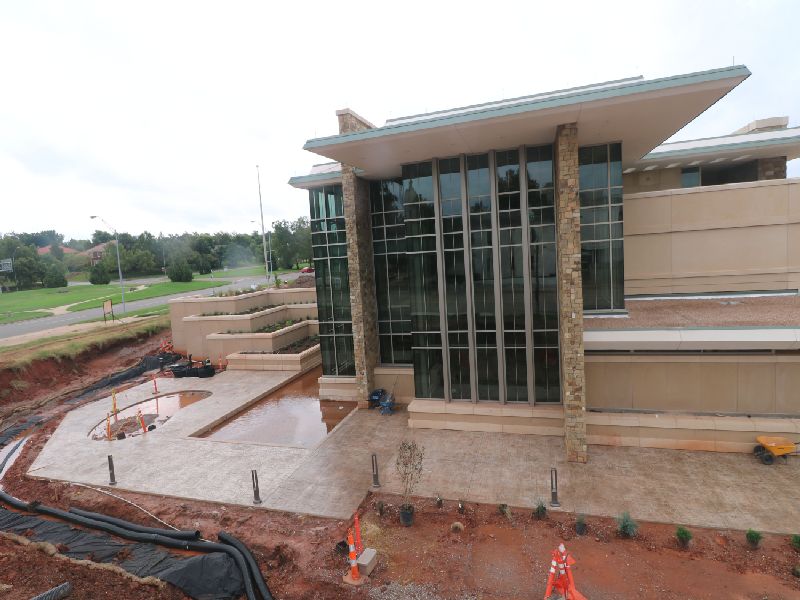 ODWC Headquarters undergoing major renovation
Funded completely by revenue generated from hunting and fishing licenses, the Oklahoma Department of Wildlife Conservation (ODWC) is rebuilding its headquarters to better serve hunters, anglers and other outdoor enthusiasts.

The first major renovation in over 50 years became necessary after extensive damage suffered from an F5 tornado in May 2013. The new headquarters is set to open 2018 in a more energy efficient, safe, leak-proof, technologically advanced, modern, and fitness-oriented setting. The renovation will also bring the facility into ADA compliance and will facilitate asbestos removal.

As with the original 1966 construction, funds for the renovation project come from the revenues generated by hunting and fishing licenses.  No state tax dollars are being spent on this project and license fees have not and will not be raised to pay for the new building. The entire project is being funded without any debt incurred by the agency.

The project includes demolition and complete renovation of the existing structure, adding 13,635 square-feet to the original 24,768 square-foot footprint. The additional floor space will accommodate a 50 percent growth in the number of central office staff since the building was originally opened in 1966. Additionally, a 7,825 square-foot warehouse will be constructed on site that will replace current off-site storage.

A competitive selection process, including a design contest, was conducted to select an architect for the project. Beck Design was awarded the architectural contract in 2015 after submitting a stunning plan that includes a strong educational component for ODWC's outdoor-oriented customers.

After going through what the Oklahoma Office of Management and Enterprise Services (OMES) described as the most competitive bidding process for state building construction in nearly a decade, the Wildlife Department hired CMS Willowbrook in June 2016 as construction manager and approved the $15.2 million project.  The project involves 38 subcontractors that submitted the lowest bids out of over 200 bidders. CMS Willowbrook has a strong portfolio in the Capitol corridor on projects such as the $36 million renovation of the Supreme Court/Judicial Center and the $13 million renovation of the new offices of the Attorney General.

The warehouse is expected to be completed in the summer of 2017, and the building renovation is anticipated to be completed by the summer of 2018.  
The ODWC does not receive any general state tax appropriations and is funded instead by sportsmen through the sale of hunting and fishing licenses and excise taxes on sporting goods. Additionally, this lobby is dedicated to educating the public about wildlife conservation and has been funded and furnished primarily by generous donations. 
Funding for this lobby was provided primarily by a donation of over $500,000 from the Mary K. Stewart Estate. Mary K. Stewart was the ODWC License Supervisor from 1951-1985, and her contributions both then and through her donation will surely leave a legacy of conservation education for generations to come. In addition to this funding, the ODWC received a donation of native Oklahoma stone from 2018 District 4 Commissioner Leigh Gaddis. Additionally, taxidermy and decor in the lobby has been generously donated by 2018 District 3 Commissioner Bill Brewster and wife Suzie of Marietta; Leonard Hanson, Jr., of Edmond; Nine Ranch, Slapout, Okla.; Danny and Monica Taylor of Okmulgee; and Bass Pro Shops in Springfield, Mo.